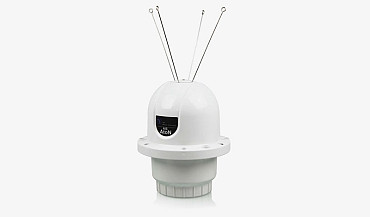 Offshore AIS Beacon
TYPE IIS
AIS Beacon Type IIS is designed to operate in conformance with ITU-R M.1371, IEC62320-2 (CDV) and IALA Recommendation A-126 on the use of the Automatic Identification System (AIS) in Marine Aids to Navigation. The module supports AIS VDL messages 6, 8 and 21.

Message selection and transmission schedule is user configurable. It is is designed for battery and solar installations and have an power consumption less than 0.7W @ 12V. Installed on an AtoN, is provided to both the mariner and authority.

This information includes;
AtoN's identification (MMSI)
Name of AtoN
On or Off position indication
Position accuracy
AtoN type and size
Telemetry, meteorological and hydrological data will be broadcast if interfaced to the appropriate sensors.
AIS Beacon Type IIS is capable of third party integration (LED Flashers, Lantern / Lamp changers, solar load, etc.). In addition to supplying AIS information, it can also be used to provide a remote monitoring system. Message 21 could include telemetry statuses, using the regional or local application data field. Internal event setting can be used, which is user configurable. Additionally message 6 and 8 could be used for this purpose.
specifications
| | |
| --- | --- |
| Application | : ATON - Offshore oil/gas rig - Offshore Windfarm |
| IP Rating | : IP67 |
| Power Supply | :12-24 Vdc |
| Temp range | : 25C to +55C |
| Power Consumption | : 0.1Ah/day |
| Interface | : USB for configuration |
| Diameter | : 1235mmx188mm |
| Weight | : 1,2KG |