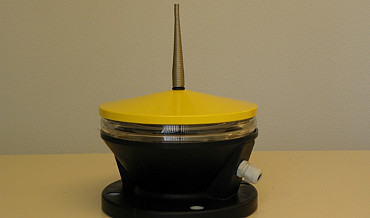 Medium range signal lantern
IML 200 PU LED
The IML 200 PU LED is a superb LED beacon with advanced specifications. Provided with a horizontal scattering lens, it provides consistent horizontal divergence.
The light source is formed through horizontally placed, high intensity LEDs. The base is made of rugged polyurethane, while the top of the lantern is marine grade aluminium, coated with two layers of high impact epoxy coating. The colour is the same as the emitted light.
A membrane is incorporated for air pressure equalisation and for blocking moisture from entering the casing. For synchronising with other lanterns, the flasher has a hard-wired input/output connection. The lantern can also synchronise with the ITO sync GPS receiver.
specifications
| | |
| --- | --- |
| Application | : Offshore wind farms |
| Lens material/type | : Acrylic type PMMA200 |
| Bird spike | : Stainless steel spring-type |
| LED type | : High intensity, red, green, yellow and white |
| Life expectancy | : Approx. 100,000 hours |
| Electrical parameters | : LED current set point, battery voltage and day/night switching point |
|   |   can be read and set by means of an infra red remote control |
| Connection | : PUR cable, standard 3 metre length |
| Cable entry | : Cable gland PG13.5, brass, nickel plated |
| Daylight switch | : Internally placed |
| Horizontal spread | : 360 degrees |
| Vertical divergence | : > 24 degrees |
| Max. intensity | : Depending on setting |
| Volt range | : 12-30 volt DC |
| Protection class | : IP66 |
| Mounting | : 4 holes of 15 mm on 200 mm BCD |
| Weight | : 3.8 kg |