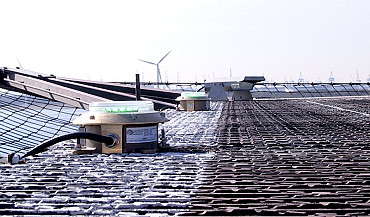 LED Helideck perimeter light
IHP 150 Green
The IHP 150 LED light is suitable for helidecks and has a membrane incorporated into the base for air pressure equalisation and to prevent moisture from entering the casing.
Compared to conventional helideck perimeter lights, the IHP 150 is especially low on maintenance costs and highly reliable. Its very low power consumption makes it suitable for solar powered systems. The LEDs have a long life expectancy. The design complies with the following standards:
ICAO annex 14, volume ll, paragraph 5.3.8.
CAA-UK CAP 4.3.7, "Offshore helicopter landing areas: guidance on standards" December 2008, chapter 4, paragraph 3.
IMO standard (International Maritime Organisation), MODU code 2001, paragraph 13.4.1.
specifications
| | |
| --- | --- |
| Application | : Helideck perimeter light |
| Lens material/type | : Polycarbonate high impact resistant |
| Housing | : Marine grade gun metal |
| LED type | : High intensity |
| LED life expectancy | : Approx. 100,000 hours |
| Colour chromaticity | : Green within ICAO specifications |
| Connection | : Terminals max. 4 mm2, external, internal M6 earth connection |
| Cable entry | : 2 cable entries M25x1.5 |
| Horizontal spread | : 360 degrees |
| Vertical divergence | : According to CAP437 |
| Effective intensity | : Main beam 30 candela (max. 60 candela) |
| Power consumption | : 7 watt |
| Voltage range | : 110-250 VAC 50/60 Hz |
| Operating temperature | : -40 / + 40 degrees Celsius |
| Protection class | : IP66 |
| Mounting | : 4 holes ø11 mm on a 200 mm pitch circle |
| Weight | : 5.7 kg |