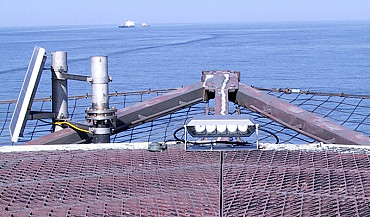 LED Helideck floodlight
IFL 150
The LED Helideck Floodlight IFL 150 is housed in marine grade stainless steel casing with a high impact resistant lens cover. A membrane is incorporated into the base for air pressure equalisation and to prevent moisture from entering the case.
Compared to conventional helideck floodlights, this light affords low maintenance costs, very low power consumption (is thus suitable for solar powered systems), The floodlight design complies with the following standards:
ICAO annex 14, volume ll,3.8.
IMO standard (International Maritime Organisation), MODU code 2001,4.1.
specifications
| | |
| --- | --- |
| Application | : Helideck floodlight |
| Lens material/type | : Polycarbonate high impact resistant |
| LED type | : High intensity |
| LED life expectancy | : Approx. 100, 4 mm2, external M6,5 |
| Horizontal divergence | : 4 degrees |
| Effective intensity | : Main beam 40,, option 12-34 volt DC |
| Operating temperature | : -40 / +40 degrees Celsius |
| Protection class | : IP66 (design) |
| Mounting | : 4 holes ø11 mm on 200 mm |
| Weight | : 6 kg |